Best Trips Start with Good Preparation, Knowing Expectations
December 16, 2021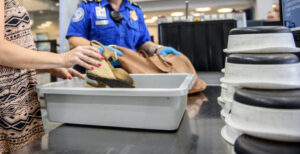 Best Trips Start with Good Preparation, Knowing Expectations
Travelers can minimize line time at TSA checkpoints by planning ahead
AAA anticipating 6.4 million will travel by air over the holidays
TSA offers help for travelers through social and traditional channels
HUNTSVILLE, Ala., December 16, 2021 –'Tis the season for togetherness, and travelers are expected to return to the skies in near pre-pandemic numbers over the next few weeks to visit loved ones. The Transportation Security Administration expects high travel volumes across the nation, and Huntsville International Airport is already seeing terminal traffic normalizing toward 2019 levels as passenger numbers continue to climb locally.
AAA has estimated that more than 6.4 million travelers will fly between Dec. 23 and Jan.2, about three times as many as 2020 when travel by air was diminished by the pandemic. The TSA expects that the single busiest days in the airports will be Dec. 23, Jan. 3, and the Sunday and Monday after Christmas, when there will be "a convergence of travelers returning home from Christmas and heading out for New Year's vacations," according to David Pekoske of the TSA.
Air travelers can significantly alleviate congestion at TSA checkpoints and reduce the stress of traveling during busy times by preparing in advance of their trip, says Sari Koshetz, TSA Public Affairs Officer for the Gulf region.
"Here are six tips for getting through the TSA checkpoint as quickly and efficiently as possible," she offered.
Tip 1. No guns in carry-ons. Airline passengers can fly with firearms but only in checked baggage. All firearms must be unloaded, properly packed in a hard-sided, locked case, and the firearm must be declared to your airline at check-in.
"Contact your airline for additional guidance," Koshetz said. "And it is your responsibility to know what the gun laws are on both sides of your trip."
The TSA intercepted a record number of guns at Alabama airports in 2021 including 19 taken up at HSV as passengers were trying to carry them through TSA checkpoints. Bringing an unloaded firearm with accessible ammunition to the security checkpoint carries the same civil penalty/fine as bringing a loaded firearm to the checkpoint, according to TSA.gov. Firearms may not be brought through a TSA checkpoint.
Tip 2: Wear a face mask. You must. The federal face mask mandate for travelers remains in place for any location inside an airport or on a plane through March 18. Those who refuse to wear a mask face steep fines from the TSA.
Tip 3: Leave prohibited items at home. Some items are ok in a checked bag but not a carry-on. Some items can't travel with you at all, including English Christmas crackers or party poppers, recreational oxygen, alcohol over 140 proof, cooking spray, bear spray, Samsung Galaxy Note 7s or fertilizer, to name a few. To reduce the likelihood of a bag search at the checkpoint and prolonged time there, search your own bag before leaving home. If you aren't sure whether your item is allowed, consult the "What Can I Bring?" page on TSA.gov.
Tip 4: Prepare for the security checkpoint. Have your valid ID card readily available. Follow the liquids rule of 3.4 ounces or less with the exception of hand sanitizer which has a temporary 12-ounce limit in carry-on bags.
Tip 5: Help is available with live assistance. Tweet questions to @AskTSA or via Facebook Messenger. You can also call the TSA Contact Center at 866.289.9673.
Tip 6: Enroll now in TSA PreCheck: Travel with ease and minimize your time in line by enrolling in TSA Pre-Check and avoid removing shoes, belts, liquids, food, laptops and light jackets. Most new enrollees receive a known traveler number within five days, and membership lasts for five years. Pro-Tip: Enroll in the Global Entry trusted traveler program for $15 more and get all the benefits of TSA PreCheck plus expedited clearance when traveling abroad. Huntsville International Airport has a Global Entry office onsite. Learn more at 256.772.3404 Ext 2000.
In addition, keep in mind that personal alcohol is not permitted on flights but may be available once on the plane. Check with your airline to see if alcoholic beverages are sold in flight. And because alcohol consumption can fuel bad behavior in some cases, passengers should note that misbehaving is expensive and might cost flight privileges. The Department of Homeland Security has increased the range of civil penalties up to $3,000 for unruly passengers.
Huntsville International Airport staff recommend arriving 90 minutes to two hours prior to flight time to allow for check-in at the airline counter, checking bags and getting through the TSA checkpoint.
"While air travelers enjoy convenient, shorter security checkpoint lines at HSV than they would experience at larger airports, it's very important that they allow ample time to get through them, especially during the holidays," said Barbie Peek, Business Development Director for Huntsville International Airport. "People are ready to get out and ready to travel and see their families, and we want them to have a great travel experience at HSV. Preparing in advance of their flight will help them enjoy it more."
Want more travel tips and answers to common questions? Visit TSA.gov.
###
About Huntsville International Airport
The Port of Huntsville operating entities include Huntsville International Airport (HSV), International Intermodal Center, Jetplex Industrial Park, Signature Flight Support, Four Points Sheraton, Sunset Landing Golf Course and Foreign Trade Zone #83. Huntsville International Airport (HSV) is the largest commercial airport in North Alabama, serving over 1 million passengers annually. Huntsville International Airport has nonstop service to ten destinations served by American, Delta, and United Airlines and ultra-low cost carriers Breeze Airways, Frontier Airlines, and Silver Airways. For more information, visit http://www.flyhuntsville.com/.