The Port of Huntsville Publishes our FY22 Annual Report
November 18, 2022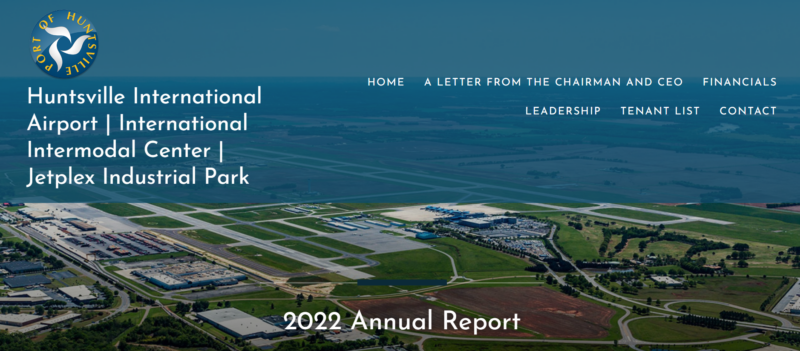 HUNTSVILLE, Ala., November 18, 2022 – The Port of Huntsville is pleased to publish our Annual Report for fiscal year 2022. The report is available on the web at https://hsv2022annualreport.org/.
The report includes a letter from CEO Butch Roberts and Board Chair Mark McDaniel, the Port's financial statement, current leadership, and these articles:
Commercial Reentry Space Flight Comes to HSV First in the US
Breeze Airways Launches Nonstop Service from Huntsville
Kerry Logistics Network Begins Service at Americas Hub in Huntsville, Alabama
LATAM Star Offers New Direct Cargo Service to Brazil from HSV
HSV West Runway Reopened Following Year-Long Renovation
HSV's Tucker Named Director of the Year, Small Airports Division
A New Addition to the HSV Fire & Rescue Fleet
HSV CEO Rick Tucker Retires
Business Development Updates
What's New & Updated at HSV
Accolades, Highlights & Recognition for HSV
What's New in FY23
###
About Huntsville International Airport
Huntsville International Airport (HSV) is the largest commercial airport in North Alabama, serving over 1 million passengers annually. Huntsville International Airport has nonstop service to 14 destinations including Atlanta, Charleston, Charlotte, Chicago, Dallas, Denver, Detroit, Houston, Las Vegas, Miami (seasonal), Orlando, Tampa, and both Dulles and National Airports in Washington, D.C. HSV is served by American Airlines, Delta, Silver Airways, United Airlines and ultra-low cost carrier Breeze Airways. For more information, visit http://www.flyhuntsville.com/.